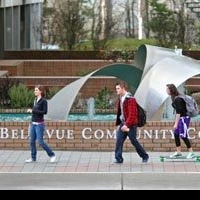 EWU Away Team
By Dave G. | March 29, 2014
The week of March 23-29 Puget Sound Chi Alpha hosted a team of 5 from Eastern Washington University to walk, pray and begin spiritual conversations on four different Puget Sound campuses. We started with two days on Bellevue College, then a day of the University of Washington-Bothell campus and Cascadia CC, then on to the main campus of the University of Washington. A fun day was mixed in, as well as evening activities and an evening with students at Northwest University in Kirkland.
We even had a special time of afternoon discussion with Dr. Dave Rule, President of the 37,000 students Bellevue College.
Libby and Dave were treated to an amazing evening with the team at the Crab Pot on Pier 57 on the Seattle waterfront.
We were so thankful to Kevin, Ashley, Ben, Danielle and Elizabeth for giving of their time, spring break, money and gifts to come and join us for a week of ministry to the Puget Sound area campuses!
Back